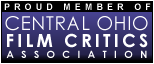 Ava DuVernay's civil rights drama Selma has been named Best Film in the Central Ohio Film Critics Association's 13th annual awards, which recognize excellence in the film industry for 2014.  The film also claimed four other awards.  DuVernay was honored as Best Director and Breakthrough Film Artist.  David Oyelowo was named Best Actor for his portrayal of Martin Luther King, Jr.  Paul Webb won for Best Original Screenplay.
Columbus-area critics recognized these other individual screen performers: Best Actress Essie Davis (The Babadook); Best Supporting Actor J.K. Simmons (Whiplash); Best Supporting Actress Tilda Swinton (Snowpiercer); and Actor of the Year Jake Gyllenhaal for his exemplary body of work in Enemy and Nightcrawler.
The Grand Budapest Hotel received three awards, including Best Ensemble, Best Cinematography for Director of Photography Robert Yeoman, and Best Score for composer Alexandre Desplat.  Desplat is a repeat COFCA winner, having also won Best Score in 2008 for The Curious Case of Benjamin Button and in 2012 for Moonrise Kingdom.
Other winners include: Whiplash's Tom Cross for Best Film Editing; The Imitation Game's Graham Moore for Best Adapted Screenplay; Best Documentary Finding Vivian Maier; Best Foreign Language Film We Are the Best! (Vi är bäst!); Best Animated Film The LEGO Movie; and The Babadook as Best Overlooked Film.
Founded in 2002, the Central Ohio Film Critics Association is comprised of film critics based in Columbus, Ohio and the surrounding areas. Its membership consists of 21 print, radio, television, and internet critics. COFCA's official website at www.cofca.org contains links to member reviews and past award winners.
Winners were announced at a private party on January 8.
Best Film
1. Selma
2. Whiplash
3. Snowpiercer
4. The Grand Budapest Hotel
5. Nightcrawler
6. Birdman or (The Unexpected Virtue of Ignorance)
7. The Imitation Game
8. Boyhood
9. A Most Violent Year
10. Gone Girl
Best Director
-Ava DuVernay, Selma
-Runner-up: Wes Anderson, The Grand Budapest Hotel
Best Actor
-David Oyelowo, Selma
-Runners-up: Jake Gyllenhaal, Nightcrawler and Michael Keaton, Birdman or (The Unexpected Virtue of Ignorance)
Best Actress
-Essie Davis, The Babadook
-Runner-up: Scarlett Johansson, Under the Skin
Best Supporting Actor
-J.K. Simmons, Whiplash
-Runners-up: Josh Brolin, Inherent Vice and Mark Ruffalo, Foxcatcher
Best Supporting Actress
-Tilda Swinton, Snowpiercer
-Runner-up: Patricia Arquette, Boyhood
Best Ensemble
–The Grand Budapest Hotel
-Runners-up: Birdman or (The Unexpected Virtue of Ignorance) and Foxcatcher
Actor of the Year (for an exemplary body of work)
-Jake Gyllenhaal, Enemy and Nightcrawler
-Runner-up: Tilda Swinton, The Grand Budapest Hotel, Only Lovers Left Alive, Snowpiercer, and The Zero Theorem
Breakthrough Film Artist
-Ava DuVernay, Selma (for directing)
-Runner-up: Jennifer Kent, The Babadook (for directing and screenwriting)
Best Cinematography
-Robert Yeoman, The Grand Budapest Hotel
-Runner-up: Daniel Landin, Under the Skin
Best Film Editing
-Tom Cross, Whiplash
-Runner-up: Douglas Crise and Stephen Mirrione, Birdman or (The Unexpected Virtue of Ignorance)
Best Adapted Screenplay
-Graham Moore, The Imitation Game
-Runner-up: Bong Joon-ho and Kelly Masterson, Snowpiercer
Best Original Screenplay
-Paul Webb, Selma
-Runner-up: Wes Anderson, The Grand Budapest Hotel
Best Score
-Alexandre Desplat, The Grand Budapest Hotel
-Runner-up: Trent Reznor and Atticus Ross, Gone Girl
Best Documentary
–Finding Vivian Maier
-Runner-up: Citizenfour
Best Foreign Language Film
–We Are the Best! (Vi är bäst!)
-Runner-up: Ida
Best Animated Film
–The LEGO Movie
-Runner-up: Big Hero 6
Best Overlooked Film
–The Babadook
-Runner-up: Edge of Tomorrow
Previous Best Film winners:
2002: Punch-Drunk Love
2003: Lost in Translation
2004: Million Dollar Baby
2005: A History of Violence
2006: Children of Men
2007: No Country for Old Men
2008: WALL·E
2009: Up in the Air
2010: Inception
2011: Drive
2012: Moonrise Kingdom
2013: Gravity