Bill Clark has been part of the online film review community for nineteen years, starting at the age of sixteen. His first project was The DVD Line, one of the first online DVD review sites. After The DVD Line closed its doors in the summer of 2000, Bill continued to write for DVD Angle for a period of time, as well as The Florida Sun, which at the time was a side project for then Florida Congressman Joe Scarborough (now host of MSNBC's "Morning Joe"). From The Balcony was founded in late 2003 and now contains over 500 reviews.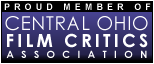 Bill is a graduate of Ohio University with a Bachelor of Science in Visual Communication and a minor in Film. He is a member of the Online Film Critics Society and Central Ohio Film Critics Association.
Contact From The Balcony
*Please Note: Due to time constraints, From The Balcony is not currently open to accepting Independent projects for review.